Lute tuition in Leeuwarden, Zwolle and Groningen!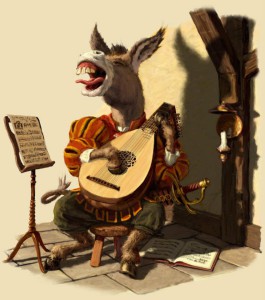 Lex van Sante bases the contents of his teachings on thorough research into old playing techniques, performing and didactic issues, coupled however with a keen sense of the demands of our stressful contemporary society. Our goal is a lively and expressive performance. We will use interesting tuition material to obtain a solid technique for study and performance which may prove beneficial for the rest of your life! The tuition takes place in a friendly and pleasant atmosphere. Apply here for a free trial lesson.
Fees and possibilities:
Depending upon your individual needs:
– once a week 30 minutes of individual tuition (adequate for beginners) 12 lessons € 250,-
– same but once every two weeks € 285,-
Intermediate and advanced players will usually have a full hour of tuition. Related aspects of the lute, its place in the society of old, interpretational and a variety of other issues of interest will then be delved into.
€ 485,- for 12 one hour lessons or € 265,- for 6.
Individual lesson 30 minutes € 27,50,- or € 50,00 for a full hour.
Tuition can be had in Leeuwarden, Zwolle, Groningen or Appingedam. Tuition at your home is also possible. Additional fees apply depending upon location. Tel: 06-53490666